Course details
4000 yen → 3500 yen course for welcome party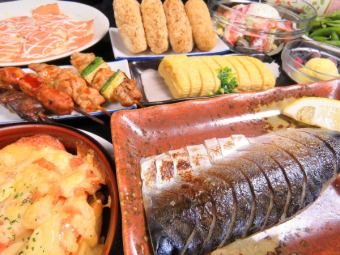 By using a coupon3500 yen
All-you-can-drink available

2 hour system (last order: 30 minutes ago)
Reservation deadline

Until 22 o'clock the day prior to the desired shop visit date
Available days for reservation

Monday - Sunday - Public holidays - Holidays
It's a bit more luxurious than usual.If you have disagreeable dishes for guests, please contact us so we can change.
Course menu
[One case]
■ Boiled Edamame
■ Caesar salad with raw ham and hot spring egg
■ Fluffy sushi egg
Assortment of yakitori ■
■ Smoked salmon carpaccio
■ Potato Mentaiko Cheese Grill
Broiled sesame seeds
■ Baked rice balls
■ Naruto golden ice cream
* Depending on the purchase situation, course contents may change.
※ According to your budget, you can also change the dish content, so please consult.
All-you-can-drink menu
·beer
· Kirin's best squeezing, non alcoholic beer
·sour
· Lemon / grapefruit / Yuzu / Sudachi / Koenfu / Green apple / Calpis / Oolong Hi
·Plum wine
· Kajikaka plum wine (how to drink: rock · water · soda)
·Highball
· Tris High Ball / Cork High / Sudachi High Ball
· Shochu (glass bottle)
· Wheat / Potato / Awamori / Sushi
·Sake
· Hot / cold wine
·Fruit wine
· Sake sake / apricot sake
·Cocktail
· Screwdriver / Cassis Orange / Cassis Grapefruit / Fazy Neckl / Kalua Milk / Gin Tonic Jin Lime / Cassis Oolong / Cassis Soda / Bulldog / Vodka Tonic
· Glass wine
·Red and white
·Soft drink
· Oolong tea / cola / Calpis soda / Calpis water / Orange juice / Grapefruit juice
Coupons that can be used with this course
2019/01/17 update