Course details
On the day OK! 2 hours 【All you can drink】 with ★ All 8 items 2700 yen ★ Even if you have a quick banquet you can guide!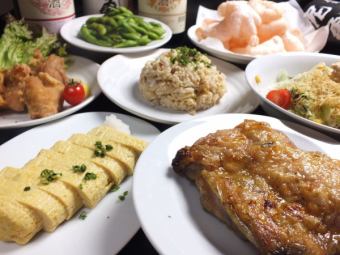 All-you-can-drink available

2 hour system (last order: 30 minutes ago)
Reservation deadline

Until 22 o'clock on the desired date of coming to the store
Available days for reservation

Monday - Sunday - Public holidays - Holidays
It is a course that you can use all you can drink at any time ♪ For regulars we will serve the number of dishes from the store manager.We can correspond to a sudden banquet, please call us at 088-623-5516 first
Course menu
[One case]
■ Boiled Edamame
■ Whimp salad
■ Fluffy Shimamaki Egg
■ Today's Recommendation
■ Chicken raisins
■ French fries
■ Ebisen
■ Special fried rice
★ Reservations on the day may be subject to changes due to inventory situation of ingredients.
※ According to your budget, you can also change the dish content, so please consult.
Plus 500 yen for an all-you-can-drink one hour extension.
All-you-can-drink menu
·beer
· Kirin's best squeezing, non alcoholic beer.It will be offered to the group by the pitcher.If you would like a bottle of beer please request at the time of booking.
·sour
· Lemon / grapefruit / Yuzu / Sudachi / Koenfu / Green apple / Calpis / Oolong Hi
·Plum wine
· Kajikaka plum wine (how to drink: rock · water · soda)
·Highball
· Tris High Ball / Cork High / Sudachi High Ball /
· Shochu (glass bottle)
· Wheat / Potato / Awamori / Sushi
·Sake
· Hot / cold wine
·Fruit wine
· Sake sake / apricot sake
·Cocktail
Screw driver / cassis orange / Cassis grapefruit / Fuzzy Navel / Kahlua milk gin and tonic, Jinraimu, Moscow Mule, Bulldog ,, Cassis soda, Cassis oolong
· Glass wine
·Red and white
·Soft drink
· Oolong tea / cola / Calpis soda / Calpis water / Orange juice / Grapefruit juice
2019/01/17 update