DETAIL
On the day OK! 2 hours 【All you can drink】 with ★ All 8 items 2700 yen ★ Even if you have a quick banquet you can guide!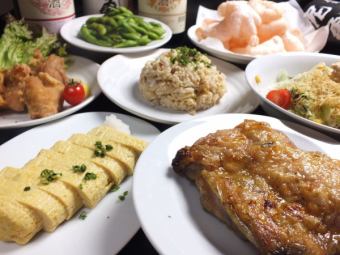 By using a coupon2700 yen
All-you-can-drink available

2 hour system (last order: 30 minutes ago)
Reservation deadline

Coming to the store until the desired date of the day 22
It is a course that you can use all you can drink at any time ♪ For regulars we will serve the number of dishes from the store manager.We can correspond to a sudden banquet, please call us at 088- 623-5516 first
Course menu
[One case]
■ Boiled Edamame
■ whim salad
■ Fluffy eel oyster
■ Today's recommended item
■ Chicken raisins
■ French fries
■ Ebisen
■ Special fried rice
* Depending on the purchase situation, course contents may change.
※ According to your budget, you can also change the dish content, so please consult.
Plus 500 yen for an all-you-can-drink one hour extension.
All-you-can-drink menu
·beer
· Kirin's best squeezing, non alcoholic beer.It will be offered to the group by the pitcher.If you would like a bottle of beer please request at the time of booking.
·sour
· Lemon / Grapefruit / Yuzu / Suzuchi / Giant Peak / Blue Apples / Calpis / Oolong High
·plum wine
· Kareshaka plum wine (how to drink: rock · water · soda)
·Highball
· Tris High Ball / Cork High / Sudachi High Ball /
· Shochu (glass bottle)
· Wheat / Potato / Awamori / Sushi
·Sake
· Hot sake / cold sake
·Fruit wine
· Sake sake / apricot sake
·Cocktail
· Screwdriver / Cassis Orange / Cassis grapefruit / Fuzzy group / Kalua milk gin tonic, Jin Lime, Moscow, Bulldog ,, Cassis soda, Cassis oolong
- A glass of wine
Red / white
·Soft drink
· Oolong tea / cola / Calpis soda / Calpis water / Orange juice / Grapefruit juice

Coupon that can be used
★ Deals on course use ★
+ 500 yen for 2 hours 【All you can drink】 extended to 3 hours OK!

Presentation conditions

At the time of booking reservations required

Conditions of use

1 pair 1 time 1 piece / 2 people or more / reservation required / card unavailable / limited to those who ordered course / Lo. 30 minutes ago / plus 500 yen per person

Expiration date

Until the end of April 2018

Spacious coin parking fee of 2 people for over 10 people
For 1 car with 4 people,

Presentation conditions

At reservation & at the time of sitting "I saw a hot pepper"

Conditions of use

No other tickets / services can be used together / 1 pair 1 time 1 person / 1 person ~ / Card usage not possible, in case of over 2,000 yen per person.When our parking lot is full

Expiration date

Until the end of April 2018
2018/03/01 update