DETAIL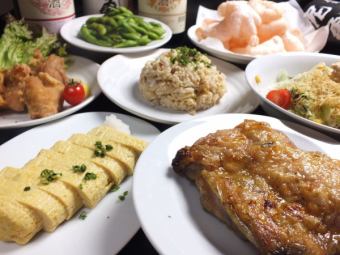 On the day OK! 2 hours 【All you can drink】 with attached ★ All 10 items 2700 yen ★
2700 yen
For cooking only 1500 yen will be.I'd like to order a one drink.
♪ It is a course that you can feel free to use all your drinks ♪ Regular party will also serve the number of dishes from the store manager.The contents can be changed, please contact us.
Menu

[One case]

■ Boiled Edamame

■ whim salad

■ Fluffy eel oyster

■ 3 items of today's recommendation


■ Chicken raisins

■ French fries

■ Ebisen

■ Fried rice

* Depending on the purchase situation, course contents may change.

※ According to your budget, you can also change the cooking content, so please consult us.

You can change it to 3 hours with all you can drink at plus 500 yen.
Coupon that can be used
★ Deals on course use ★
+ 500 yen for 2 hours 【All you can drink】 extended to 3 hours OK!

Presentation conditions

At the time of booking reservations required

Conditions of use

1 pair 1 time 1 piece / 2 people or more / reservation required / card unavailable / limited to those who ordered course / Lo. 30 minutes ago / plus 500 yen per person

Expiration date

Until the end of September, 2017

[On the day OK]
2H 【All-you-can-drink】 course ★
All 10 items 2700 yen!

Presentation conditions

At the time of booking and when visiting

Conditions of use

More than 2 people / Drinking 2 H (LO 30 minutes ago) / Tickets and services can not be used together / Cards can not be used

Expiration date

Until the end of September, 2017